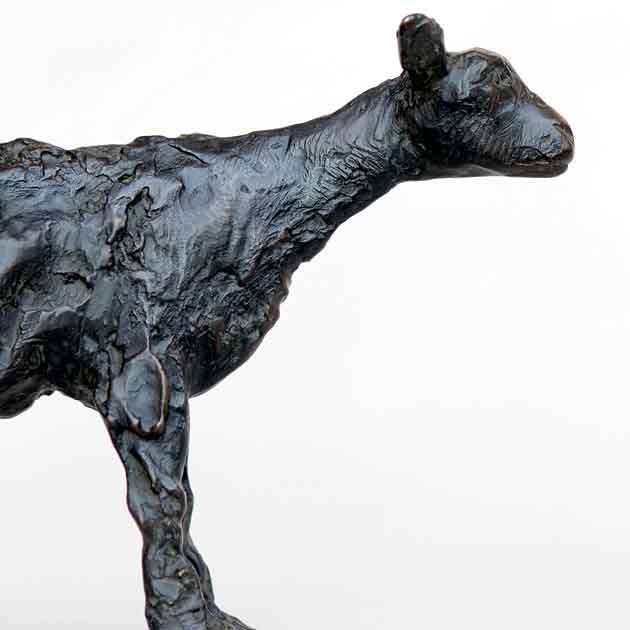 Books
Peter France
By Glenn Suokko and Mitchell Manacek
This beautifully illustrated book presents the limited edition works in bronze by American sculptor Peter France. Texts by authors Glenn Suokko and Mitchell Manacek, and photographs of France's captivating studio, provide insight into the artist's creative history, process, and inspiration.
Valise Print Artisans
8¾ x 9¾ inches, 72 pages, folded soft cover, with over 75 color and black-and-white images
Peter France is a sculptor, working primarily in bronze and steel. His work is rooted in the natural world and he seeks to express the immaterial gestures and the very "beingness" of animals and natural forms. He studied at the School of the Museum of Fine Arts, Boston, and Tufts University before spending ten years at Founderia Mariani-Jackson in Pietrasanta, Italy, where he was steeped in the age-old traditions of bronze casting. From 1996 to 2013, the Allan Stone Gallery in New York City represented him. France's work has also been shown at the Galleria Ursula Wiedenkeller, Zurich, Switzerland; Ann Brown Gallery, Chads Ford, Pennsylvania; Hall Barnett Gallery, New Orleans, Louisiana; and the Art Gallery at Simon Pearce, Quechee, Vermont, where he is represented today. His bronzes, 3-D wire drawings, and other sculptures reside in private collections around the country and the world. France creates his work at Crow Studio, a creative workshop that he designed and built adjacent to his home in East Washington, New Hampshire.
Mitchell Manacek is researcher, contributing writer, and copyeditor for Valise Print Artisans and Glenn Suokko Design. His recent work includes Peter Brooke: The Nature and Memory of Experience (Valise, Woodstock, 2018), English editing for the Archives of Modern Chinese Art, a catalogue raisonné series produced by The Li Ching Cultural and Educational Foundation, and copyediting for Dartmouth College's Studio Art Exhibition Program artist-in-residence catalogue series. Mitchell lives and works in Burlington, Vermont.
Glenn Suokko is creative director and editor for Valise Print Artisans and an independent book designer, photographer, and writer. His recent books include Peter Brooke: The Nature and Memory of Experience (Valise, Woodstock, 2018), Shelburne Farms: House, Gardens, Farm, and Barns (Rizzoli, New York, 2017) and Simon Pearce: Design for Living (Rizzoli, New York, 2016). Glenn is also creative director for A New Pastoral, an online food and cooking resource and quarterly printed journal. He lives and works in Woodstock, Vermont.